If you like showing off your town, talk to us about becoming a Dwellworks Destination Consultant!
Click the links below to jump to each respective section.
---
What is Destination Services?
We help relocating employees love where they live! Being a Destination Consultant is flexible, social, and personally rewarding. As a Destination Consultant, you can make a real difference in welcoming a family to your community and helping them to get settled in their new home. We take great pride in our work and are constantly looking for talented and enthusiastic consultants to support our clients. Destination Services includes: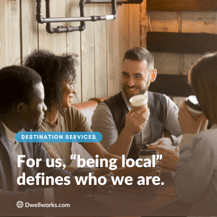 Community Orientation

School Finding and Enrollment Process Guidance
Social Security and Bank Account Set Up

Driver's License Registration

Facilitate Utility Hook Up

Local Settling-in Knowledge

Home Finding Support

RETURN TO TOP


---
Testimonial
Watch a testimonial by one of our Destination Consultants!
---
A Day in the Life
As a Dwellworks DSC, every day is different and your days change based on the needs of the relocating employee. One day you may "meet" by phone or email to discuss upcoming visits, needs assessments, or to share rental market information. On other days, you may meet in person for area orientations, school visits or to view rental properties. Your days are coordinated based on transferees' availability. The best part of being a consultant is that everyone's needs are met - the relocating employees and your own - all while delivering an exceptional expierence!
RETURN TO TOP
---
How it works
You accept work based on your schedule and availability. If you aren't available, no problem! We'll call you for the next program in your area.
There is no quota to meet or goal to fulfill, but we appreciate your assistance on accepting any and all programs that fit your schedule.
Work is sometimes sporadic and other times steady – across some regions, we tend to be busier in the Spring and Summer and slower in the fall and winter, however, volume is always subject to change.

Qualities to have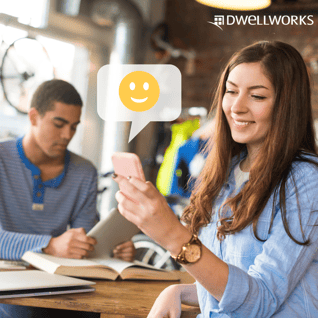 •
Customer service-minded.

Empathy

Excellent verbal and written communication skills

Expert knowledge of city and surrounding areas, including rental market and local schools

Comfort with technology and online research
*need to have driver's license and a car if applicable
RETURN TO TOP

---
Learn more!
---
Join our team!
Interested in becoming a Destination Consultant, apply here!
---
Sign up below for our blog
Sign up for Dwellworks blog communications (weekly or monthly) which include COVID-19 updates and how our team is actively responding globally.
Subscribe here: